You may have noticed some rumblings on Twitter about #pinaddicts and you may have noticed a lovely #pinaddicts badge up there in the corner of my blog. See it? On the right hand side above my follow badges. Click on that and you'll land on the lovely Kerry aka @thelovebump.
Kerry had a great idea to get a bunch of Pinterest addicts together who range in crafting / baking / making things skills from fantastic i.e. the sewing extraordinaire @SewScrumptious and the baking beauty @NotSoSlummy to pretty damn crap i.e. Me!
Not sure what Pinterest is? Click on the logo to have a look at my stuff on there.
Click
here
to find my #pinaddicts board.
My #pinaddicts board is a collection of pins that I hope to try and make! Ha Ha!
On Monday February 6th Kerry will host the first #pinaddicts challenge linky. So if you want to join in, get a #pinaddicts board set up on Pinterest, start pinning some ideas, choose a pin, make it, blog about it and link up!
And there are prizes!
Click here for extra clarification: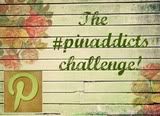 And here are the gorgeous lovelies involved with #pinaddicts.
Just click on their beautiful faces to find their blog!
And this is me - in case you didn't know!
Hope you come and join us!!
Scroll to Top